"It is made entirely of glass and aluminum. It's designed and built to an exacting level of standard unlike anything we, or anyone in our industry, have made before."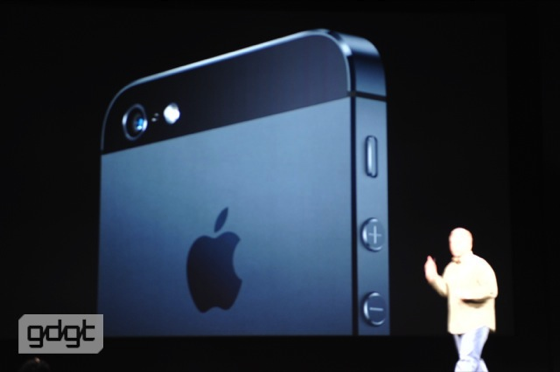 Image courtesy GDGT.com
6.7mm thin, 18% thinner. The world's thinnest smartphone.
Weighs 112 grams, 20% lighter than the iPhone 4S.
"The challenge is to make it better and smaller."
4-inch display, 1136x640.
Five rows of icons, plus the shortcut row on the bottom.
Phone was made taller because the width is designed to fit the hand perfectly.
"As you carry your phone, it should fit beautifully in your hand."
"All our software has been updated." Keynote, Pages, Numbers, iPhoto, iMovie, GarageBand.
"You can see a full, five day workweek."
Old apps run letterboxes, with pixel-perfect rendering. Black borders on either side so the display remains centered. A few developers received a sneak peek, and debs have said they can update their apps "very quickly."
Screen is nearly 16:9, with 44% better color saturation. Display is better, with touch integrated into the display, so it's thinner, sharper, and has less glare. "We couldn't be prouder of it."
Apple has added new wireless tech, including LTE and DC-HSDPA. Apple says it took "a lot of incredible engineering." Apple is using a single chip for voice and data, and a single radio chip.
In the US: Sprint, AT&T and Verizon will support LTE.
Canada: Rogers, Telus, Bell, Fido, Virgin.
After the event, Apple will publish a full list of supported carriers.
The iPhone 5 supports dual-channel 5GHz 802.11n, allowing for max performance up to 150Mbps.
"We've updated every aspect of iPhone 5."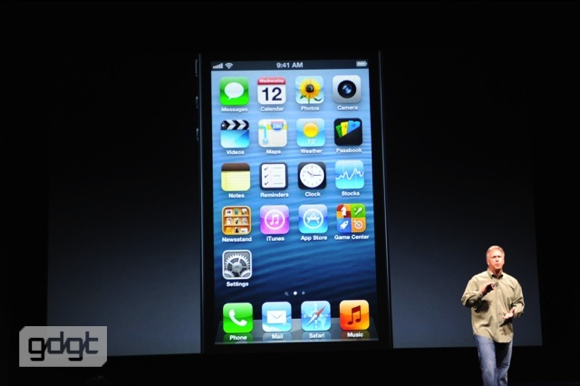 Image courtesy GDGT.com
The new A6 chip is 2x faster and has 2x the graphics performance compared to the A5. It's 22% smaller and more energy efficient.
EA Studios is coming out to demo Real Racing 3. The game is scheduled for release later this year.
Regarding battery life, Shiller says the iPhone 5 will exceed the battery life of the iPhone 4S.
8 hours of LTE browsing, 10 hours of video, 40 hours of music, 225 hours of standby, 8 hours 3G talk time.
The new camera has an 8 megapixel camera with backside illumination, a hybrid IR filter and a five-element lens. f/2.4 aperture. 25% smaller, dynamic low light mode, precision lens alignment, sapphire crystal. The camera evaluates nearby pixels to give up to 2 f-stops greater low-light performance, along with new image processing in the A6.
40% faster on photo capture.
Adding Panorama mode. Sweep the scene vertically to get best resolution. Showing a 28 megapixel image of the Golden Gate Bridge. "Creates seamless transitions between photos."
Video is 1080p but with better video stabilization.
The front-facing camera is now 720p, backside illuminated with facial recognition.
The iPhone 5 has three microphones, one on the bottom, another on the front, and one on the back. Improved voice recognition and cancellation.
The phone has an improved speaker design, and is 20% smaller, and with a five-magnet transducer -- three more magnets than previously. Additional magnets make the speaker more efficient -- more volume for less power. Apple is calling it "sideband audio".
Next, the connector:
"So many of the things we used to do over the wire, we now do wirelessly." The 30 pin dock connector goes back 9 years. "It's served us well for almost a decade."
New connector called "Lightning".
All-digital, 8-signal design. Adaptive interface, improved durability, reversible, 80% smaller.
Bose, JBL, B&W, B&O and others are already working on the new connector.
Apple creating a "bunch of accessories" to hook up to old equipment.
That's the iPhone 5.
iOS 6 up next.
"Perhaps one of the most important features of the iPhone is the software it runs. And we have iOS 6. It's been designed from the beginning to take advantage of the iPhone 5."
Scott Forstall is out for a demo.
This is stuff we have seen before -- Maps with Yelp and Siri integration, flyover, satellite views, etc.
Now showing off Safari. "It looks great on this display." Offering a new fullscreen mode. Showing iCloud tabs.
Demoing Passbook, coupons, movie and airplane tickets.
Demoing Shared Photo Stream.
Now, the new version of Siri with sports scores, standings, and more.
"Can you recommend a good movie in theaters?" Siri: "That is a very subjective question. Here's what others have found to be good movies." Showing Rotten Tomato rankings. Asking for restaurant reservations delivers you to OpenTable. Updates to Facebook via Siri.
"We think you're going to love it."
Now Phil Schiller has returned to the stage.
Comes in two colors, black or white front. "The thinnest and lightest phone we've ever made." White version has a raw aluminum back, while the black version has an anodized back.
Now showing the promotional video after running down the specs again.
Jony Ive in the video: "With this unique relationship with your iPhone, we take changing it very seriously."
Bob Mansfield: "It took an incredible cross-collaborative effort" to make the phone thinner.
Video is giving more details on the Lightning connector, sapphire lens on the camera, touts LTE as potentially faster than home Wi-Fi connectors.
The video goes through the special manufacturing process used to make the phone. The video should be posted on Apple's website soon after the event is finished.
Phil is back as the video ends.
Same pricing as iPhone 4S.
$199 for 16GB, $299/32GB, $399/64GB (with two year contract).
iPhone 4S is $99, iPhone 4 is free with contract.
Preorders start on Friday, shipping one week later.
Launching on the 21st in the US, Canada, UK, France, Germany, Australia, Japan, Hong Kong and Singapore. Launching on the 28th in 22 other countries.
Death is not the worst of evils. You can't be down, when you're always high.