since i know we have some BFMV fans on here.
"Your Betrayal", the new single from Welsh metallers BULLET FOR MY VALENTINE, is scheduled to go for radio adds on March 8. The track comes off the band's new album, which is tentatively due this spring via Jive/Zomba.
Fan-filmed video footage of BULLET FOR MY VALENTINE performing "Your Betrayal" at last summer's Rockstar Energy Drink Mayhem Festival tour can be viewed below.
"I'm not ashamed to say it: I'm proud as fuck," singer/guitarist Matt Tuck told U.K.'s Rock Sound about the new CD. "Every time I hear it I get pumped up and want to play it to people."
"I'm sure it can take us into new places because it's such a huge progression."
According to Tuck, the follow-up to 2008's "Scream Aim Fire" will contain 11 tracks and will contain fewer all-out thrash moments than its predecessors, but no ballads whatsoever. "We've tried to not deliberately do something specific, but we've analysed what did and didn't work on the last two albums and tried to make the best album we can," he said.
"People will put us in multiple scenes or trends, but that's why I think we don't belong in one," continued Tuck. "We can adapt our sound… we're a hard rock band with metal influences, and I've said that from Day One."
BULLET FOR MY VALENTINE's new album was helmed by American producer Don Gilmore, who has previously worked with LINKIN PARK, DASHBOARD CONFESSIONAL, GOOD CHARLOTTE and LACUNA COIL, among others. "He totally beat me up to get the best songwriting out of me," Tuck told Rock Sound. "We needed someone to take us to another level even though we've had such huge success off our own backs."
"We feel confident to go it alone, but working with someone different is always a gamble. For the first four months, if felt like we'd fucked up, like we should have done everything on our own, but as time progressed, we could see what Don was doing and why he was doing it.
"We'll always be trying to show people what we're capable of."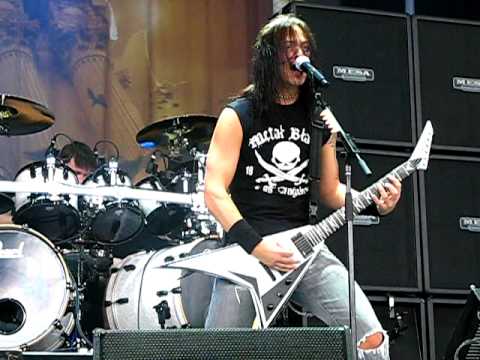 https://www.youtube.com/watch?v=hmgpL_oT-cc